March 27, 2005
awesome Island Easter Party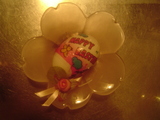 I enjoyed an awesome Island Easter Party tonight !
champion, music, games, food, ......
All is for -- "J.J."!
Easter is the time of springtime festivals, a time to welcome back the Tulips, the Crocuses and the Daffodils. Its a time of new suits, new dresses and patent leather shoes.
A time for Christians to celebrate the life and resurrection of Christ.
And a time of chocolate bunnies, marshmallow chicks, and colored eggs !